JAG Policies and Procedures
Information about in-person and remote appointments.
How to schedule your appointment
Fees, costs, and accounting policies
Our courtrooms and capabilities
Where and how to send documents for your appointment
Meet our experienced administration team
COVID-19 Policies and Procedures
Call us directly with any additional questions: 303-572-1919 or 1-800-ARBITER.
As the Covid 19 pandemic continues and for the foreseeable future we will operate as a virtual mediation center. We are allowing a limited number of in person mediations on a case by case basis with consent of the arbiter and all parties involved. However, for the continued safety of all participants we have created these in-person guidelines.
You will be screened for temperature and asked health screening questions in the main lobby of the building. If you do not meet the health criteria you will not be allowed to participate in the mediation.

You will be required to wear a mask or shield the entire time you are in the building. If you do not have a mask we will provide you with one.
Please maintain social distancing (6+ feet apart) at all times. Please follow all directional signs when moving about the office. Go directly to your assigned conference room and only move about the office when absolutely necessary. Please do not congregate in communal areas or coffee bars.
Restrooms are high traffic areas where social distancing may be hard to maintain. Only one person may be in the restroom at any time.
When entering or departing a conference room, restroom or coffee bar please utilize the sanitization supplies provided by wiping down any surfaces you may have touched including door handles.
Conference room doors will remain open to facilitate air flow. Parties in the same case will be separated to maintain confidentiality of conversations.
We will only be providing coffee and drinks in the coffee bars. Snacks and lunch will be delivered in separate containers to each conference room.
Schedule your appointment through our admin team. 303-572-1919 or 1-800-ARBITER
Scheduling of matters with the Judicial Arbiter Group is accomplished through an automated calendaring system operated by the scheduling department. Arbiter selection is by preference of involved counsel unless choice is delegated to Judicial Arbiter Group, Inc. by prior agreement of all parties.
JAG arbiters are also available to resolve certain matters by teleconference. Appropriate matters suitable for teleconference should be scheduled through one of the scheduling clerks, at 303-572-1919. To check the calendar status of a specific arbiter, counsel should click the calendar link on the arbiter's biography page. For general arbiter availability by date, click the arbiter calendar button. 
Call us directly with any additional questions: 303-572-1919 or 1-800-ARBITER.
Fees charged by staff of the Judicial Arbiter Group, Inc. are based on an hourly rate and will vary with the arbiter selected and the nature of the case submitted. Such factors as the number of parties, location, or unusual travel requirements may affect the rate. JAG does not charge filing or administrative fees. Fees for producing summary jury trials or focus groups include actual expenses such as jury procurement, surveying and compensation, videotaping, arbiter time and a project coordination fee for trial management services. Please contact the JAG office directly for specific information regarding arbiter fees and case-specific costs.
Travel time incurred by the staff of the Judicial Arbiter Group, Inc. is charged at one-half (1/2) the selected arbiter's normal hourly rate. In addition to the costs of public transportation, cases requiring travel outside the state of Colorado will be assessed a flat charge necessary to cover the cost of lodging, meals, ground transportation, car rental and other related expenses.
Deposits and cancellations
In binding arbitration hearings or domestic relations settlement conferences counsel will be required to forward a deposit based upon the chosen arbiter's hourly rate and the estimated time required for trial and deliberation. Participating parties should contribute equally in the submission of the required deposit unless otherwise agreed. Arbitration hearings or settlement conferences cancelled or continued within fourteen (14) days of the scheduled matter may be subject to a fee based upon the arbiter's hourly rate and the number of days reserved but not used.
Clients of the Judicial Arbiter Group are able to receive current financial information on account balances and billing by contacting the Accounting Manager (jburt@jaginc.com). Other questions regarding accounting or collections can be directed to the Controller (tcowles@jaginc.com). In cases with special billing requirements, counsel should provide the billing agreement, in writing, to JAG accounting staff, as well as all involved parties, at least seven (7) days prior to the scheduled matter. Failure to do so will result in an equal billing split and responsibility for payment assigned accordingly. All special billing information is confidential and not disclosed to the case arbiter.
Offices of the Judicial Arbiter Group are designed for efficiency and function, with ample facilities for arbitration hearings, settlement conferences and summary jury trials.
There is generous space for private attorney-client conferencing. Computerized attorney work stations with access to internet, e-mail, word processing and legal research are available. All facilities of the Judicial Arbiter Group are handicap accessible with convenient parking nearby.
These capabilities permit counsel to give effective, technology-based presentations, record witness testimony for future review, and observe and record real time jury deliberations.
JAG's courtroom is equipped with the most advanced presentation and recording tools, including ELMO, Skype, a 120" high definition projection screen, and two 55" LCD monitors. Additionally, JAG has the capacity to digitally record three juries deliberating simultaneously.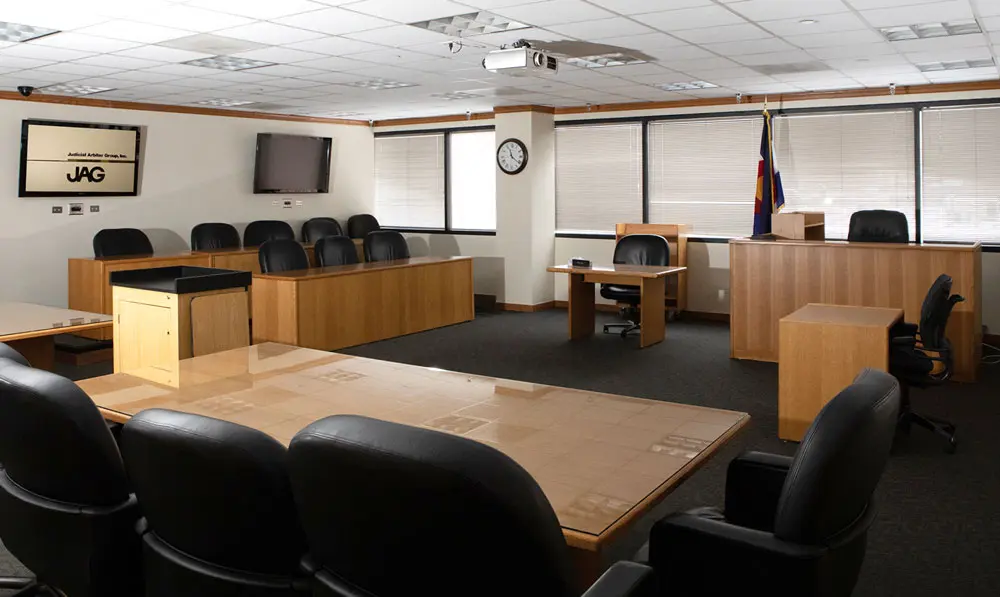 1601 Blake Street Ste #400 Denver, CO 80202
Documents required for JAG hearings can be delivered, faxed, or e-mailed to the Judicial Arbiter Group.
Please note that there is a 50 page cumulative limit for emailed documents. Counsel choosing to submit materials by email should send information, in advance of the scheduled date, both to the individual arbiter and to materials@jaginc.com. For cases in the Colorado Springs JAG office, administrative questions and settlement or arbitration materials should be directed to krawlins@jaginc.com.​
Born and raised in Denver, I now live in Littleton with my roommate, our cats Milo and Cabbie Tat, and our chinchillas Fester & Gomez. When I'm not completing morning check-in, you can find me helping around the office wherever necessary! I love all sorts of fiber arts and am currently studying to become a certified Spanish-English Interpreter and Translator.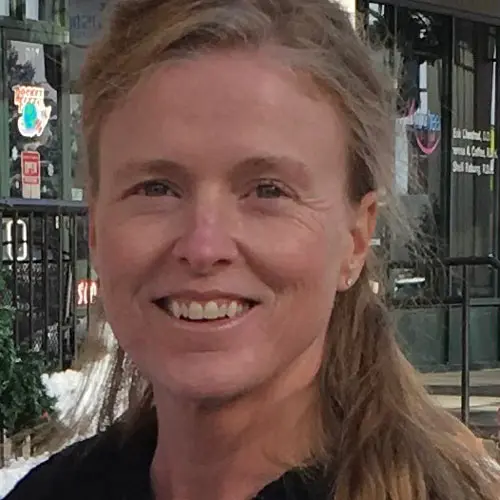 The receptionist at JAG since 2011, Heather Turner enjoys using her years of experience at JAG to provide the epitome of customer service for our clients and coworkers. Passionate about the smooth operation of documentation and mediations. When she is not collecting Arbiter's materials or beating them at fantasy football, you will find her outdoors. She loves gardening, hiking, camping, snowboarding, playing with her beautiful grandchildren, and traveling with her husband of 34 years.
After spending 16 years at the Colorado Supreme Court and Court of Appeals as an administrative clerk, I joined JAG in 2003 and am part of the scheduling team. I am a semi-native having moved here from Virginia when I was 2 years old. I like to cross-country ski, hike, camp and bike.  Other hobbies include gardening and reading. I have one husband, two children, a daughter-in-law, seven siblings, 16 nieces and nephews and I'm a great-aunt to 19 nieces and nephews.